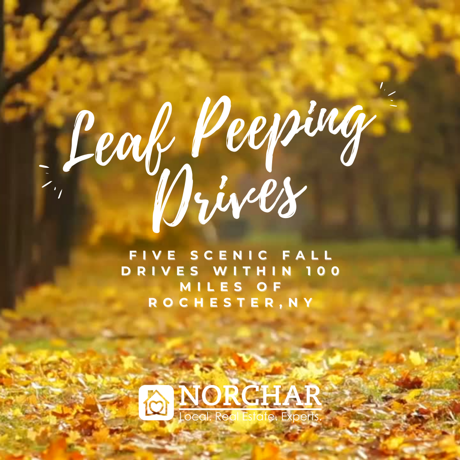 Autumn in Upstate New York is a sight to behold, with nature painting the landscape in vibrant hues of red, orange, and gold. If you're looking to immerse yourself in the beauty of fall foliage, we've got a treat for you. Join us on a journey through five spectacular autumn drives within 100 miles of Rochester, NY. Buckle up, roll down your windows, and prepare to be enchanted by nature's masterpiece!
1. **Letchworth State Park Drive (45 miles)**:
*Known as the "Grand Canyon of the East,"* Letchworth State Park is a prime destination for fall enthusiasts. Take a scenic drive along the Genesee River as you witness the breathtaking gorge views and marvel at the vibrant leaves. Stop at various overlooks, like Inspiration Point and Middle Falls, for picture-perfect moments. The winding roads and dense forests create a truly magical experience.
2. **Finger Lakes Wine Country Tour (65 miles)**:
Explore the Finger Lakes region's charming wineries, each surrounded by picturesque vineyards and rolling hills. The fall foliage along Keuka, Seneca, and Cayuga Lakes is a captivating sight. Sample local wines while taking in the views, and don't forget to visit quaint towns like Hammondsport and Watkins Glen along the way.
3. **Braddock Bay Drive (20 miles)**:
A short drive from Rochester, Braddock Bay offers stunning views of Lake Ontario framed by vibrant foliage. Follow Lake Ontario State Parkway and stop at Braddock Bay Park for birdwatching and serene waterside vistas. The contrast of colorful trees against the deep blue of the lake is a visual delight.
4. **Genesee Valley Byway (60 miles)**:
Discover the Genesee Valley's rural charm as you meander through scenic byways. Travel south along Route 63 from Pavilion to Dansville, passing through picturesque farmland and quaint villages. The rolling hills and tree-lined roads create an enchanting landscape that's perfect for a leisurely autumn drive.
5. **Adirondack Mountains Scenic Byway (150 miles)**:
While a bit over 100 miles from Rochester, the Adirondack Mountains Scenic Byway offers an unforgettable fall adventure. Head north and immerse yourself in the Adirondack wilderness. Witness the breathtaking foliage around Lake Placid, Saranac Lake, and the High Peaks region. This drive may be longer, but the sights are well worth the journey.
Autumn drives near Rochester, NY, offer a front-row seat to nature's annual spectacle. From the dramatic gorges of Letchworth State Park to the serene shores of Lake Ontario and the rolling hills of the Finger Lakes, these scenic routes are a feast for the eyes. So, grab your camera, pack some snacks, and hit the road to experience the magic of fall foliage on these picturesque drives. Don't miss the opportunity to witness Upstate New York's autumnal transformation – it's a journey you'll treasure forever. Happy leaf-peeping!