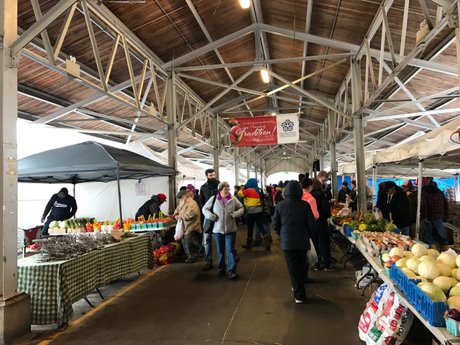 We're bringing back our family favorite Saturday traditions...visiting the Rochester Public Market.  It's what we did this particular Saturday when child #1 was at field hockey practice and we had 1.5 hours to kill.  So off we went to explore.  Now late morning presents a bit of a hunt for a parking spot.  On Saturdays, the market is open 5am-3pm and the earlier you get there, the better the parking.  Every time we go seems to be peek hours, so patience is required to find a parking spot.  After a couple turns around the lot, we were able to sneak into a spot vacated by another marker goer!  High Five!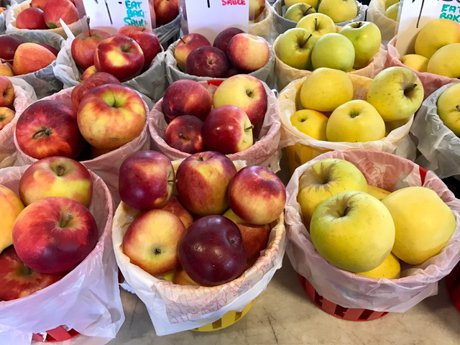 Finding a spot took longer than we liked so we knew we had to hustle...outside stalls first! Now once you start down the outside stalls, you are gloriously greeted with beautiful stocked stands of fruit, veggies, meats, seafood, cheeses, eggs, plants, and animals!  Yes, animals...chickens, roosters, bunnies, and goats to be exact.  Whatever you're looking for...you've come to the right place.  Rochester's Public Market is a true feast for the senses and it's meant to be savored and enjoyed.  Not for us, we were on a tight timeline because of child #1. It was a challenge that we gladly accepted.  SuperMarket Sweep style shopping ensued!  We found some great deals on veggies and fruits...score!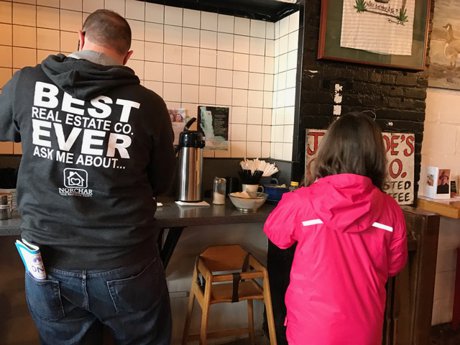 Buying sweets & coffee is a MUST for any visit to the Rochester Public Market.  We like to try something different each time we go.  We haven't been disappointed with anything ever.  The coffee shops are wonderful.  Boulder Coffee at the Market, Java's, or if you find a separate stand serving coffee.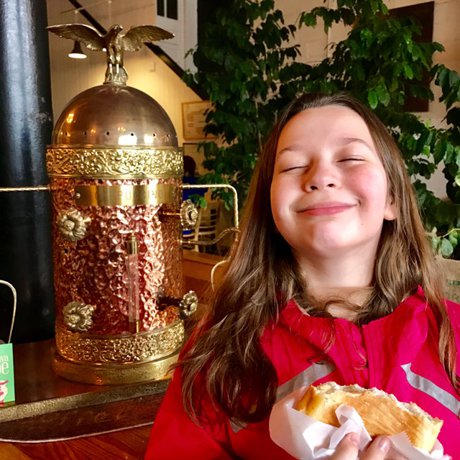 Child #2 thrilled with her sweet goodie and the fact she's playing only child.  Both of those experiences would easily bring this smile to fruition!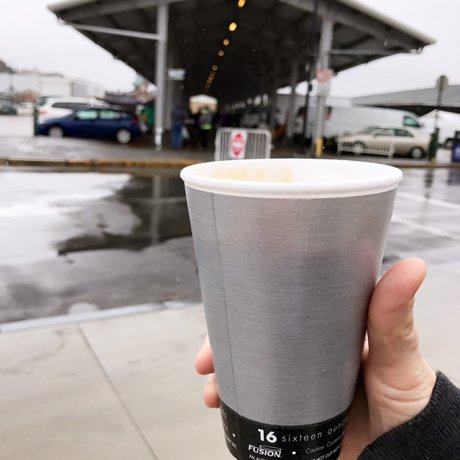 Unfortunately for us...1.5 hours went by too fast and we had to hightail it outta there to pick up child #1.  But never fear, this glorious day not only occurs on Saturdays, but Tuesdays & Thursdays 6am -1pm year round.  We love visiting the market and easily see us keeping this tradition going as long as we can!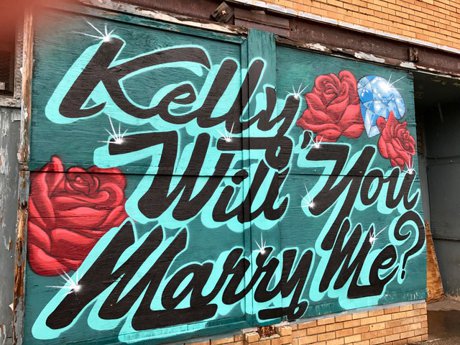 Found art....who is Kelly?  Was she surprised & did she say yes???
Flower City Days at the Market
8 a.m. to 2 p.m.  
Sundays: May 7, May 14, May 21, May 28, June 4  
Memorial Day Weekend: 
Friday, May 26 
Monday, May 29 (Memorial Day) 
Food Truck Rodeos at the Public Market
Wednesdays, 5:00-9:00 p.m. 

April 26
May 31
June 28
July 26
August 30
September 27  
Community Garage Sale and Superfleas at the Market
Sundays, all 8 a.m. to 2 p.m.:  
April 23, April 30, June 11, June 18, June 25
July 2, July 9, July 16, July 23, July 30
August 6, August 13, August 20, August 27
September 10, September 24
October 1, October 8, October 15