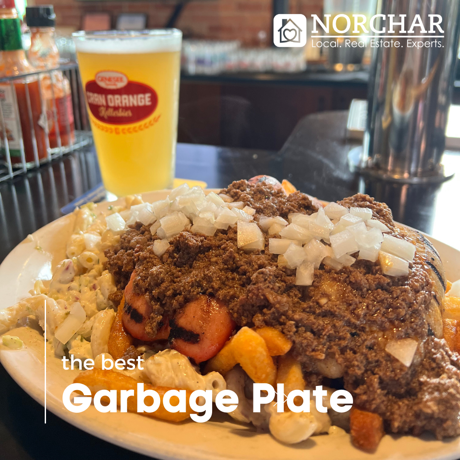 So, back in the day, we're talking around the 1940s, there was this joint in Rochester called Nick Tahou's which is known as Nick Tahou Hots today.
Now, Nick Tahou, he was the man behind the magic. Legend has it that a bunch of hungry college kids rolled in one night, probably after a wild party, and asked Nick to whip up something with "all the garbage" on it. Nick, being the creative genius he was, took a bunch of random leftovers and kitchen scraps and threw them together into a glorious mess of a meal. That, my friend, was the first Garbage Plate.
Picture this: a mishmash of crispy home fries, creamy macaroni salad, and hearty baked beans. Then, slap on your choice of meat—could be juicy hamburger patties, sizzling hot dogs, or zesty sausages. But wait, it doesn't stop there! Crown it all with a spicy meat-based sauce that's got some kick and throw on whatever extras you fancy, like onions, mustard, and maybe a squirt of ketchup.
Fast forward, and this glorious hot mess became a hit. The Garbage Plate started popping up all over Rochester like nobody's business. It wasn't just the taste; it was the whole vibe, the gut-busting portions, and the "ain't-nothing-pretty-about-it" attitude that made people fall in love.
Nowadays, you'll find the Garbage Plate all around town, each place putting their own spin on it. But let's be real, it's still Nick Tahou Hots that's the OG. The dish has become a badge of honor for Rochester. It's not about being fancy, it's about being real and darn delicious.
So there you have it, the scoop on how the Rochester Garbage Plate went from a late-night concoction to a legendary grub that folks can't get enough of. It's messy, it's indulgent, and it's pure Rochester, NY magic.
Where do your Favorite NORCHARians like to get their plate?
Ann Schneider - Genny Brew House "A dog plate from Genny Brew House and a cold Genny from the source, c'mon, if you're going for gut busting, BUST the WHOLE GUT!"
Craig Schneider - The OG Nick Tahou Hots - "You can't replicate the taste of 60 years of griddle grease."
Brandon Weeks - dogTown - "IMO dogTown is doggone good!"
Nichole Blue - dogTown - Two in a row!